---
FastTrack FastTrack Data Blog
FastTrack September 7, 2023
New families are out this morning. We recently launched a new family of interval funds. This family is named "Interval" and appears in the Objective family tree node. Last month this family was named "ALL - Interval Funds" and it is now changed.
FastTrack August 14, 2023
Some users might be prompted to re-install FT Comm every time they attempt a data update. This is related to a recent bug in the latest Windows update. Microsoft has rolled back the update and many users should have this resolved in 24 hours or less. For now, click the "Install" button when prompted, and use FT Comm as normal.

Microsoft Article with many technical details.
FastTrack June 1, 2023 6:45PM EST
New families are out tonight. Look for them on the first or second of every month. Enjoy!
FastTrack May 22, 2023 8:30pm EST
Some customers are reporting a partial Stocks 1 download, despite not having a Stocks 1 subscription. We have updated some things and fixed this issue. Please do another FT Comm update now to remove the Stocks 1 database and resolve any issues.
FastTrack May 1, 2023 9am EST
All data processes are working well and updates to this blog are infrequent.
In the past 12 months, we've hit the 6:45pm EST and 8:20pm EST targets every market day.
For any and all data issues, questions, or ticker requests email data@fasttrack.net.
FastTrack December 29, 2022 9am EST
Year end dividends are coming in. We've refined our processes over the years and have gotten VERY good at spotting missing, erroneous, and incomplete dividends. We use a combination of AI models built on AWS, ranking with our spreadsheet tools, and triangulating conflicting data with our many direct data providers.
Thus far in December, we've collected and checked via internal processes 19,962 dividends on funds and ETFs. FastTrack has the best data available from any source. Keeping this quality up is our main objective and we appreciate all of our customers how value this. Happy new year!
FastTrack November 7, 2022
We released a new update for the internet tab this morning. Drag and drop tickers from the color bar, lists, spreadsheet, etc into the internet tab.
Holdings
Sector weights
Expense ratios
Share Classes
Description
Summary stats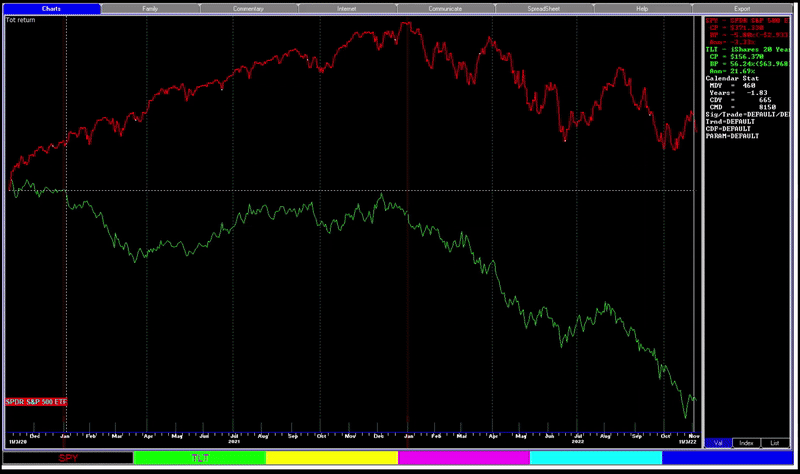 FastTrack September 28, 2022 7:50PM EST
All systems and updates are normal.
FastTrack September 28, 2022 7:40PM EST
We have an updated Funds 1 and Funds 2 out. ETFs, stocks, and indexes are still showing 9/27/2022 data. This will cause problems with FT4web customers. A new, complete update should be out by 7:45pm EST.
FastTrack September 28, 2022 7:05PM EST
After some issues with our servers earlier today, we're running a little slow on tonight's update. We're expecting to be up with our first update at approximatly 7:30pm EST.
FastTrack September 28, 2022 1:25PM EST
We're back up! More info to come soon.
FastTrack September 28, 2022 8AM EST
We have an unexpected server update going through at 12:30pm EST today. FastTrack services should be down for less than 5 minutes. We'll be posting additional updates as needed during and after the updates.
FastTrack August 8, 2022 8:50PM EST
Final ETF update out. Everthing looks good.
FastTrack August 8, 2022 8:35PM EST
First update with 8/8/2022 data is out. This update is missing 2,490 ETFs closing price (77%). Those are loaded in our internal systems now and will be published shortly.
FastTrack August 8, 2022 8:16PM EST
Funds and many stocks will be updated in the 8:25pm EST update. ETF data is trickling in and we're moving collections to out back up provider. 8:50pm EST should have complete data for ETFs.
FastTrack August 8, 2022 7:30PM EST
Our NASDAQ and NYSE connections are experiencing issues tonight. 6:45pm EST update is last. We hope to have this resolved by 8:25pm EST update.
FastTrack April 18, 2022 8:30AM EST
From approximately 7:20AM - 8:20AM EST this morning, our data update included values for 4/15/2022 (Good Friday, markets closed). The values were a repeat of 4/14/2022's closing prices. This is now resolved. Do an FT Comm data update to remove the invalid market day.
FastTrack March 3, 2022
With local Russian equity markets closed, FastTrack will not provide evaluations today for ADRs whose underlying securities are Russian.

As stated in our evaluation methodologies, if we determine we do not have sufficient objectively verifiable information to support a security's evaluation, we will discontinue evaluating the security (securities) on an issue, issuer, and/or deal level basis until we can obtain such information. We will continue to monitor developments and will provide additional information to FastTrackers as circumstances warrant.

This message is largely a restatement of the policies of InterContinental Exchange which is our major source for daily pricing.
FastTrack February 4, 2022
New index families avaialble in latest update. Check out the family tab under "Fundamental Category."
IX-FX
IX-Moodys
IX-Morningstar
IX-MSCI
IX-NYSE
IX-Overnight
IX-Russell
IX-S&P
IX-Swaps
IX-Treasury
IX-VIX
IX-Bloomberg
IX-Breadth
IX-CBOE
IX-CommoditySpot
IX-CRSP
IX-Crypto
IX-DowJones
IX-Economic
FastTrack January 19, 2022 6:00am Eastern

Morningstar Redux
Morningstar consistently publishes commentary that hard to understand. Today's expample is an emailed authored by Susan Dziubinski . Upfront she lists 12 International funds that are predicted by "Experts" to outperform US stock funds. They are CIVIX,DODFX,SAN,SMGZY,OAKIX,DISVX,OAKEX,DFISX,MIEIX,YUM,YUMC,SA,

The red line is an equal weighted average of the last 5 years of these 12 funds. The chart shows that they have badly underperformed US S&P 500 for 5 years, This is largely due US technology stock astounding performance. View FSELX as a third line on your own chart.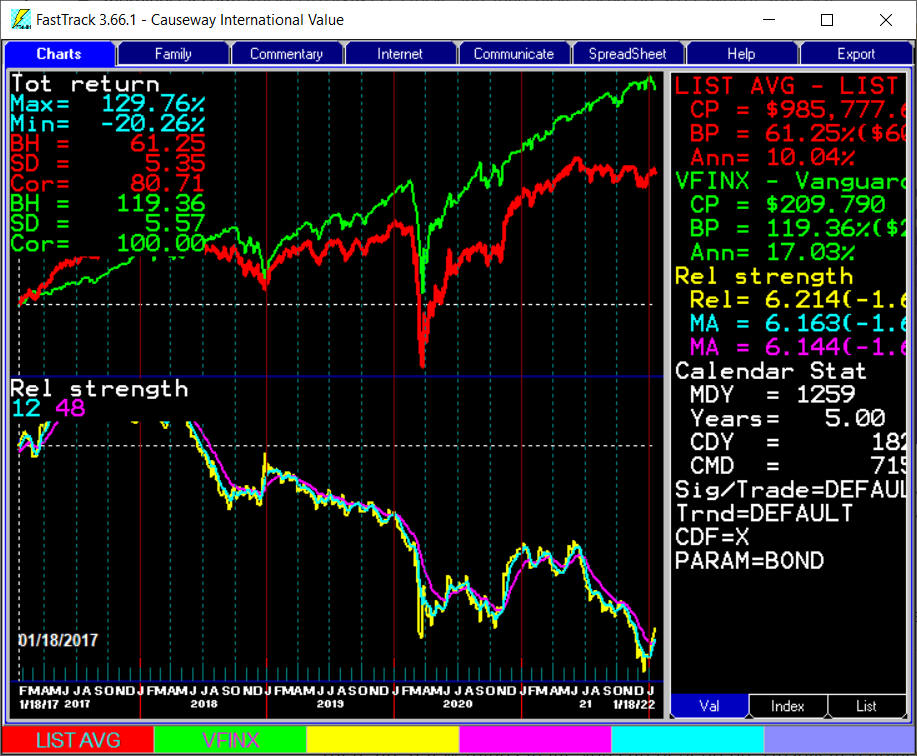 So, what message is Morningstar sending us? To buy international since the US tech stocks might take a downturn? To buy a management philosophy that refuses to over weight hot sectors like technology?
Using the Sieve function of FT4Web Family Tab, start with all Technology stocks worldwide and then subtract all the US tech stocks. This leaves leaving 183 nonUS technology stocks. AVG these over the last 5 years for a 20% rate of return. Call us at 866-295-0166 if you don't know how to complete this. evaluation. Read the rest of the MStar article and see if they provide a rational explanation about why you would want to buy international stocks today. P.S. Europe has MUCH more serious energy problems than the US which could severely affect coming returns, but I'm not sure how to get further into that analysis at this time. MStar gives no warning.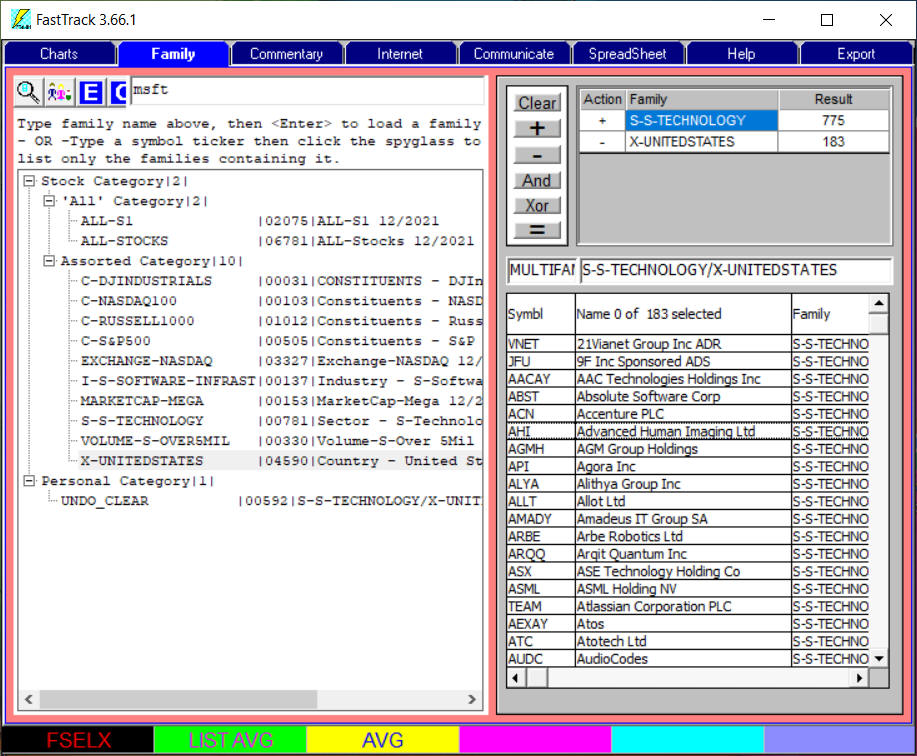 FastTrack January 1, 2022 6:00am Eastern

"Never Stop Doing What you Love"

Our first full year in business closed on December 31, 1991. It has been a wonderful 30 years. Thank you. The company remains wholly owned by the Charbonnet Family and retains the original goals of providing high-quality data and simple investing strategies. Daniel Charbonnet leads new product development. Shirley is financial manager and works closely with the data department. Paul continues to work directly with FT4Web customers every day for support and training. W have Paul McCartney's "Never Stop Doing What you Love" CD which we got from Fidelity in 2005. It was part of a promotion to major holders of Fidelity funds. I can't say the music carried a message for me, but the CD title itself has become an expression of how we feel about working with FastTrackers every day.
Good market returns continue despite politics, disease, and lifestyle changes. Every year-end, we receive holiday messages from many long-term customers. They often credit us for their years of successful investing, but for most, the secret of success has been their personal use of the very large amount of information we provide. The world of computerized investing has always hugely favored market timing because a large amount of correct historical data is hard to find, but when timers trumpet their great success, likely it came from buying Apple, ICE, Tesla, Bitcoin, Amazon, etc . early. This is selection, not timing. TV's Jim Cramer's personality has made his living for the past decade or more from selection advice. Jim offers himself as the product whereas the FastTrack and Beatles music has always stood in front of its creators.
Personally, in the 1980's Paul relied on selection using just the Fidelity Selects and built his own software on a Data General minicomputer (look that up in Wiki). Fidelity provided an easy way to download their Select fund data each day, Dividend handling was a challenge. Paul could have used all Fidelity/TRowe Price funds for the model and done equally as well. One of the great advantages of growing older is to look back on events selectively constructing reality today. Unfortunately, what FastTrackers really want to know is tomorrow's reality which is still under construction..
With the introduction of the IBM PC in 1981, computers became widely available to the investing public. but it took 5-years more to integrate the compiler software, development environments, communication tools, and data storage. Paul was part of the team that created BLAST, a Modem telecom program, that gathered and sent data to FastTrackers before the inception of the Internet. We had 32 AT&T dial-up phone lines. That gave way to an internet connection that reduced a whole bank of computers to a single server machine initially at Go Daddy. A merger of Go Daddy and an upstart Amazon hugely expanded the scope of our services. Backup and data management were redesigned using Amazon servers and software tools.
I mention all this history to give you some idea how much has changed below the surface of FastTrack in the effort of keeping FastTrack "the same" . . . which is the feature that users most often request.
Of course, the devil is in the details, so FastTrack changes have always been kept to a minimum. For example, we haven't needed to increase the price of subscriptions since 2018. But this year, we are reacting to a 5.9% increase from our major data supplier (ICE) which we must pass on to most users. We will continue to honor special pricing offered to a small group of FastTrack Charter Subscribers in the year 2000 without future increases. Charter Premiums have always been dedicated to FastTrack's custom-designed employee retirement plan. There are new FastTrack products which all aim at making FastTrack Data more widely available to more users.

God bless the USA and investors everywhere who use knowledge to make this world great.

Paul Charbonnet, Founding Partner.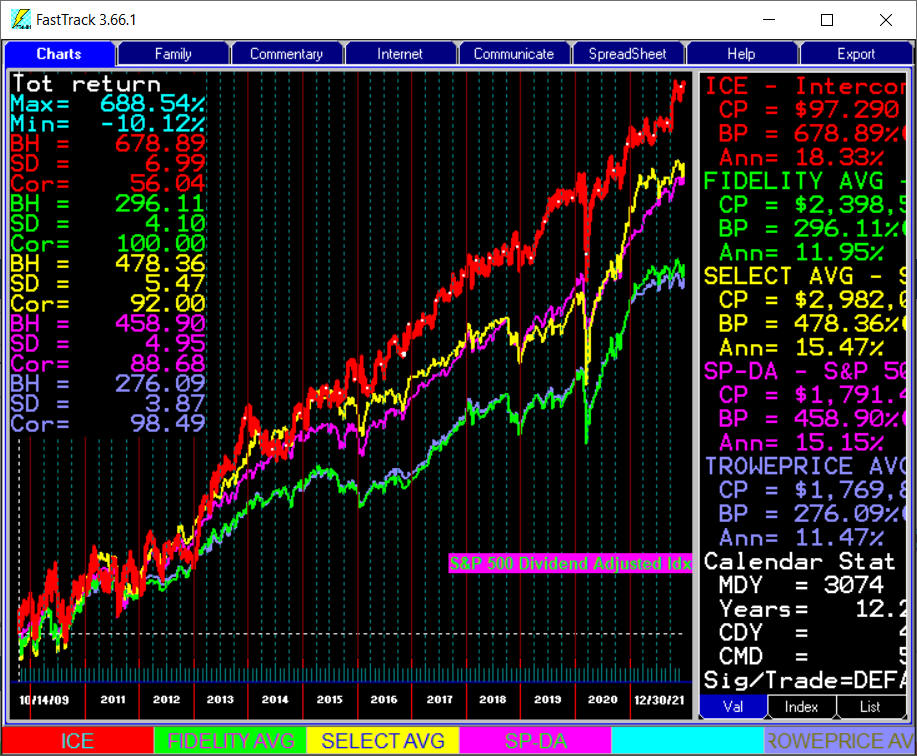 09/01/1988 to 12/31/2022 Final Closing postions with trades using monthly momentum and starting with $100,000 in assets. Discontinued funds exist as money market assets and particiapte in funding each month's returns
FSELX $ 10,659,632.05 Fidelity Select Semiconductors
FSCSX $ 5,206,212.02 Fidelity Select Software & IT Service
FSLBX $ 3,154,089.43 Fidelity Select Brokerage & Management
FSDCX $ 3,098,963.75 Fidelity Select Communications Equi\Disc
FSLEX $ 3,056,160.55 Fidelity Select Envir & Alt Engy
FSAVX $ .00 Fidelity Select Automotive
FSESX $ .00 Fidelity Select Energy Service\Disc
FSRBX $ .00 Fidelity Select Banking
FDCPX $ .00 Fidelity Select Computers
FSHOX $ .00 Fidelity Select Construction & Hsg
FNARX $ .00 Fidelity Select Natural Resources
FSENX $ .00 Fidelity Select Energy
Final Total assets = $25,175,058.00

Looking at the current holdings of the S&P 500 using the FTStocks databases. We find that only 266 of the current S&P 500 stocks existed in 1988, Basically as companies failed they were replaced by winners . . . an index fund momentum model strategy.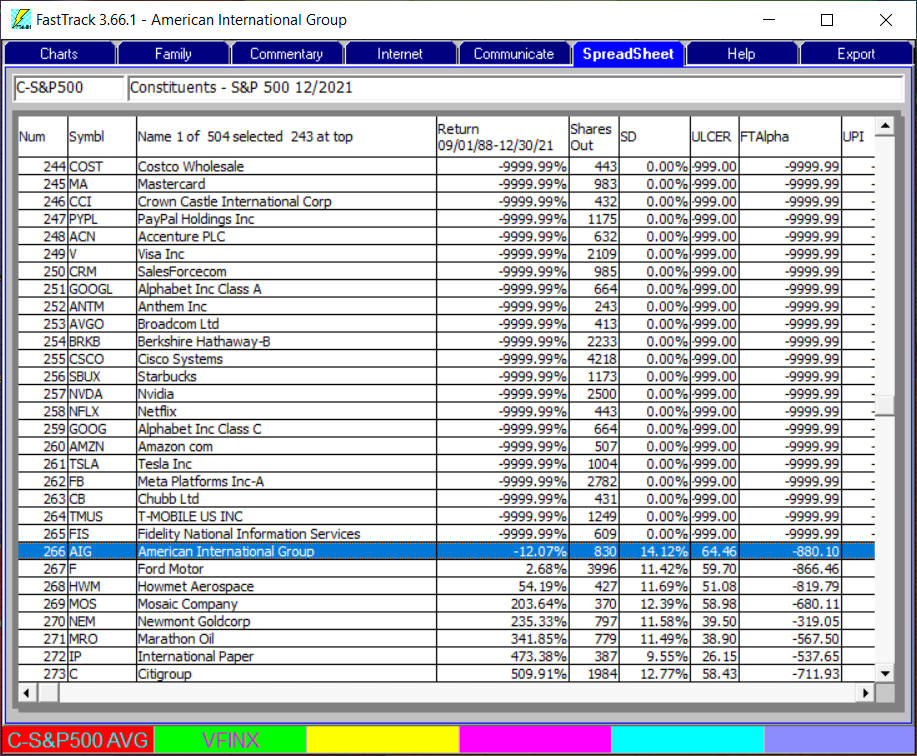 FastTrack December 27, 2021 10:00 AM
ETF database was producing errors from approximately 9:15am to 10am EST. All tickers were invalid. FT4web users, run FT comm update to resolve. All other products restart/reconnect and the issue will resolve
FastTrack Nov 11, 2021 7:50 AM
We've recently added a Crypto Family.
The membersip criteria for being added to the familly are pretty simple.

Must be absolute value > 50% correlated to F-BTC when sampled every 5-days over the most recent 3 months.
Must have an inception date of 3 months ago or earlier.
There are several exceptions to these rules specifically requested by FastTrackers.


F-BTC translates the daily BitCoin price at the NYSE closing time by InterContinental Exchange to US Dollars
Since trading continues 24 x 7, there is no assurance that our sources will actually match all possible sources. These are added due to subscriber interest. Do not take this interest or our additions as a BUY recommendation. I continue to believe that there will not be a transition from Government controlled currencies to crypto currencies until such time as crypto is regulated, taxed, reported by most major countries. There WILL continue be rapidly accelerating computational power devoted to minting new block chains. The time is nearing that early adopters will want to cash in their crypto to invest in other financial instruments causing great volatility.

FastTrack's strength has always bese in portfolio diversity. If you must own crypto then considers the strategy shown in the following chart. F-BTC and UPRO are not significantly correlated. Computing trades between UPRO and F_BTC with FT4Web's V chart has provided exceptional return while reducing risk. There is a 5-day trading delay in this chart. If you do not understand this strategy, call 866-295-0166 for FastTrack's longstanding, excellent free help. We don't tell you what or when to trade. We just show you how to use the tools to make your own decisions.
PaulCharbonnet, Founding Partner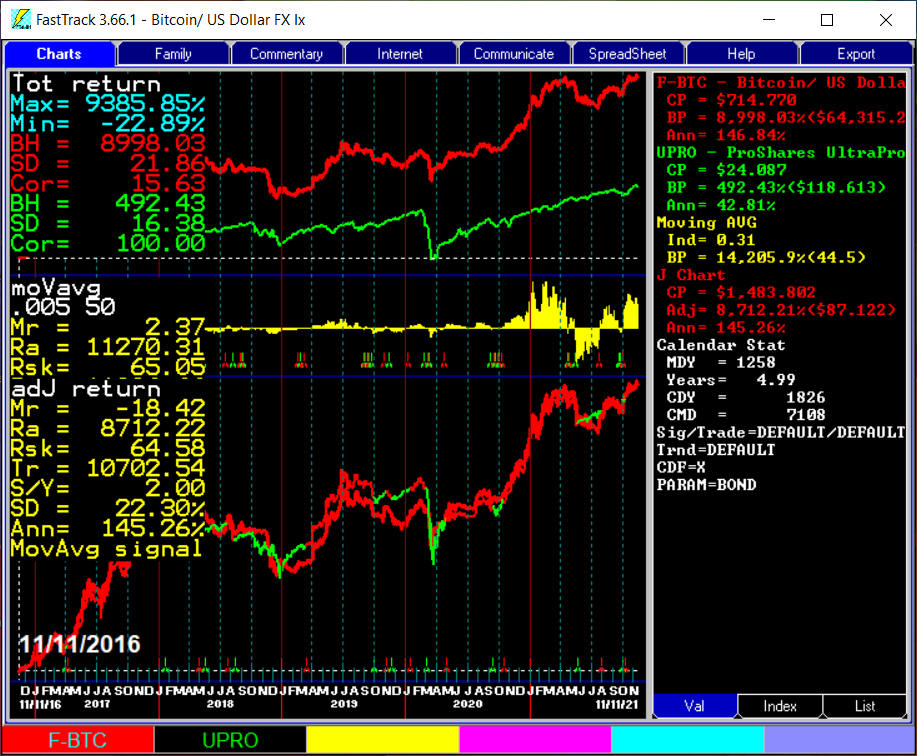 Paul Charbonnet, Founding Partner
FastTrack Oct 19, 2021 7:50 pm
The first update is out. We're running an hour late, again due to delays and connection issues at our main data provider.
FastTrack Oct 19, 2021 7:15
NASDAQ is back to feeding us slow data. They're upgrading their systems and it's intermittently causing us problems. It looks like we'll have our data for the 8:20pm EST update.
FastTrack Sept 28, 2021
NASDAQ is feeding us the data suuuuper slow tonight. We're targeting our first update at approx 7:50pm EST.
FastTrack July 7, 2021, 7:15AM Central

There was a problem in last night's download. For some funds thee July 2 prices were overwritten by the July 6 prices producing a 0% return for their fund 1-day rankings. The morning rerun corrected the problem.

This did not affect all funds nor did it affect ETFs, indexes, or stocks. We are researching the problem further. We will report what we find later today.

Do another data update to fix the problem.
FastTrackMay 25, 2021, 6:00AM Central
Fear of inflation.
FastTrackers following our long term advice should NOT fear inflation.

I have never claimed any particular timing expertise. I get Tom McClelland's newsletter for that. To put fundamental information in context, I rely on Jim Stack's InvestTech Research letter. Both of these letters see a bull market for months to come but using entirely different forms of analysis. However, they are both currently confused about inflation.

What is inflation?
Answer: When you need a shoebox full of paper money to buy a loaf of bread and that box of money was worth two loafs last week. Fortunately, most FastTrackers are not holding much paper money . . . ideally just enough to buy groceries this week. What you do follow is FastTrack's long-term strategy of holding stocks and bonds in various proportions. These are going up in value while paper money is going down. See the yellow line below which rebalances monthly to split assets 50/50.

Not only the return is good. The yellow SD= is less than just the red bond line's. Your portfolio is taking less risk than a 100% bond portfolio.

S tocks and bonds DO NOT lose money to inflation.
Neither does your house, auto, your college degree, the love of your family, and social security. In 1965 when I finished high school, I once paid $0.19/gallon for gas. In 1969 my college apartment cost me $90/month, which I split with my roommate. I had little money in the bank. Inflation meant only that my income was going up. In 1987, I bought a house with an 11% mortgage on it. Inflation? Not a problem! My savings and loan that made the load went bust, and I didn't pay the monthly mortgage for 18 months. The post office returned the mail, and the S&L office had a chain on the door.

Maybe in my life, I have just been lucky?
If so, my kids must have inherited that luck. They are maxing out their retirement savings in 401K and IRAs, and my daughter sold her home of two years ($25,000 down) and walked away with $85,000 at closing.

So how are you? I love my FastTrackers! If you read Stack and McClellan, you might have a lot of cash right now. Their recent letters address the unique market forces at work: The virus, the President, the Fed, the Treasury, the economy, widespread fear, and a new Cold War for global dominance between the US and China. Which of these is your holding cash going to cure?

Oh! BitCoin. No inflation problem. You can't even buy a loaf with that.

FastTrack's use will be in finding sectors, bonds, ETFs, stocks, and funds that will meet your criteria. Our Ulcer Performance Index and FTAlpha are ideally suited for the task. Read our help on these, and call 866-295-0166 x 2 for help.
FastTrack April 12, 2021, 3: 00PM Central
A number of ETF with tickers Starting with J and following Morningstar Indexes have been renamed, redirected, and have new ticker symbols. This happened on March 22, 2020. We revised the databases removing the old tickers and adding the new ones.

We chose to keep the old history since it appears that COVID and politics have been forcing realignment of indexed investment strategies for the last 2-3 years.
The fund managers choose to do this to you, not FastTrack and we don't want you to be unable to see the cause of the problem. We not suggesting anything disreputable happened.

This is why you have FastTrack . . . you can see what is really happening and compare funds and indexes to each other.
FastTrack April 1, 2021, 8:00AM Central
This is a chart pattern I see this morning in my premarket chart from Fidelity. A red sharp spike down.
This is caused by an investor's large stop loss order executing. This is chart TQQQ, an ETF that has a huge daily trading volume.

Very often in stocks and ETFs that are thinly traded you will see this happen even in the middle of the day.
In this case it is before market open on the last day before Easter 3-day weekend. Covid fear is waning. Lots of traders are joining friends and family instead of real-time trading.
For TQQQ there is a big management staff who never sleep, or at least their sophisticated computer trading never sleeps. They spot an unusual event in TQQQ,
There BIG stop loss order (or several) near a recent high volume day (not shown).
There are only 3,200 shares offered between the small current bid of 94.35 and the stop losses.
They execute buys for the 3,200 shares priced between 94.35 and 91.05.
65,000 shares (Green spike in volume) offered in the Stop loss order are now the only ones for sale. They are snapped up at at about 91.04
Normal trading immediately resumes near the 94.35.


Stop Loss is dangerous especially in thinly traded issues. LOTS of ETFs are thinly traded. Spot these looking at FT4Web Spreadsheet Tab MarketCap column. ETFs are created when there there is demand. The low MarketCap means little trading volume. For these there may be long periods when there are no shares offered for sale EXCEPT your stop loss. Any order at any price will buy your your shares at the stop loss value. The red spike bottom will be a noose for your portfolio.
Won't happen to you?
Of course, it will. It' has happened to me several times before I figured it out.
Best returns, Paul
FastTrack March 1, 2021, 11:00AM Central
BITCOIN: There is a lot of misunderstanding of BITCOIN. This is because the events that will give BITCOIN value are unknown and in the future.
The same can be said for the US Dollar. The US Dollar is backed by the full faith and credit (FF+C) of the United States. When the world no longer believes in the US FF+C then the dollar will lose value. Notably, US FF+C is not based solely on how much we print. Our ability and willingness to bomb almost everywhere with impunity is key to our FF+C.
So what is BITCOIN FF+C?
When you and enough other people believe BITCOIN has value, then it will have value.

When Amazon offers to buy/sell in BITCOIN for whole categories of products.
When the US dollar value of two items and the BITCOIN value of the these two same items are equivalent in your mind.
There is already a practical measurement of equivalence, the Big Mac Index. Assuming that McDonald's Big Mac is
basically the same item worldwide, then currencies can be compared based on the cost of a Big Mac in each currency.
The US Dollar loses value when
When you need to take shoe box of US currency to the store to buy a loaf of bread
When government tracks and regulates every US Dollar in order to raise taxes.
When the government has multiple currencies. China has two. The US has at least three big ones Dollars, EBT, WIC, and SNAP.
What about BITCOIN competitors?
They do exist. They all compete for FF+C in different specialized markets.

For example, horses . . . most have no real value until they start winning races.
It would be very hard to measure the value of a race horse on the Big Mac Index
S o, should I invest in BITCOIN?

There are very good reasons.
Avoiding US Taxes is NOT one of the reasons... the IRS is crunching down on profits made trading BITCOIN. Once the proceeds are translated to US Dollars and deposited in a financial institution you will get taxed.

There are NO investment instruments for BITCOIN. There are indexes that track BITCOIN value. The FastTrack ticker F-BTC can be used as the basis for correlation in the FT Spreadsheet. Call for assistance it you have questions.

OPINION: I own NO BITCOIN or similar instruments. I consider these instruments to be unsuitable for older investors, like myself, who should be investing conservatively. This is my personal opinion.
FastTrack shows investors how to use our products to accomplish their investment goals, but stops short of recommending any particular instrument.

Paul Charbonnet, Founding Partner.
FastTrack January 13 2021, 11:00AM Central
Concern about a Safe Harbor
This is a link used by Fidelity to explain inflation Econoday Economic Report: CPI January 13, 2021

It should roll your eyes roll back in your head. Here is how FY4Web explains inflation over the last 30-years.
The red line is Fidelity short-term bonds. The green is CNPI-, the consumer price index.
You are tempted to believe that you can have safety and income in short-term bonds.
Unfortunately the lower R Chart show that since 2003, bonds have just kept pace with inflation, nothing more. Of course, if all the dividends are taxable, then you have been losing money.
So What good s this discussion? Well, at some time in the future the R Chart line will start moving upward . . . maybe it has already has? Take a look at the shorter-term chart (not shown). Maybe the R chart began moving up in November of 2018. How long will the upturn last is unknown, but you can see it happen day-by-day using FastTrack.

There are lots of other short-term bonds. Check out the Vanguard family
FastTrack January 7, 2021, 7:00AM Central
I am not a political expert. I am an expert at producing quality, long-term financial data, and take great pride in that. My personal goals are
To increase my total net worth by investing in funds and stocks that have quality management.
To use diversification to control risk.
To use timing as a rare, but indispensable tool.
To share the data, strategies, and goals with FastTrack subscribers.
The future for investing is bright, and the need for FastTrack is especially critical in this time of political uncertainty. Here is what I know to be true,
The government has borrowed a lot of money for all kinds of purposes including COVID recovery.
The government is likely to continue to borrow. distribute, and spend money in the future.
Much of this money will end up in the hands of successful businesses and their shareholders.
Little of the money will go into the hands of those who have few investments.
Shifts in the government elected leadership will redirect spending.

Here is what I have heard.

More money will be given to people who are not rich.
More money will be given to people in racial and ideological groups that don't include me.
More taxes will be levied on me.
Renewable energy will see funding. Fossil energy will be made more expensive.
Climate Change programs will be funded.
Immigration will increase.
Health Care for everyone will be partially funded at the expense of Medicare.

Here's my personal plan.

To continue offering Investors FastTrack on a subscription basis,
To sell new offerings that have been released or are in development.
To talk my customers personally providing quality service.
To remain fully invested.
To maximize what I can draw from government programs whether I need it or not.
To continue to fund tax-deferred investments which, in my case, includes a second-to-die variable life insurance contract that will pay off tax-free millions to my children.
To emphasize investments like realty funds which will increase in value with inflation.
To contribute money to family, friends, and causes which I love and believe in.

Do you have your list like this for yourself? Has an independent financial advisor reviewed it? Are you needlessly tied in knots over the recent political turmoil?

Thank you for your patronage.
My best wishes to you and yours in 2021
and the bright future for our children beyond.

Founding Partner, Paul Charbonnet

FastTrack September 28,2020,9 :00AM Central

I've made an effort to stay apolitical this year, but the blatant bias of respected sources aggravates me. The Reuters link above lists stocks that will be favored by a Biden or by a Trump win. The article was also quoted on Fidelity.Com

An equally-weighted average of the 11 Biden stocks is up 163% since Trump took office. The 2 stocks listed for Trump are down -36% since Trump took office. Trump's list also included the energy sector (no particular stocks) because it will do even worse under Biden.

Most problematic is Biden's electric car stocks. Reuters presumes that carbon fuel cars will become outlawed. However, this does not achieve carbon emission goals. Biden's sneaky aside is that hybrid cars will not be outlawed although they do not significantly contribute to meeting Climate Change goals.

FastTrack September 15,2020,4:00PM Central

While Hurricane Sally is affecting our Baton Rouge LA operation. It will have no impact on FastTrack data collection tonight or tomorrow.

FastTrack July 23, 2020 8:42AM Central (revised 10/14/2020 for clarity)

This did not happen last night.
Our update this morning ( which gets missing prices and newly posted dividends) is at fault.
We believe we will be up with corrections by 8:45AM

Of interest, the problem was caused by a programming oversight on our data server (not FT4Web). The server code did not allow for billions of dividends. We revised the server code. We want to thank sharp eyed FastTrackers who alerted us to the problem so quickly. There are actually a much smaller number of dividends in the FT data base currently. Many dividends in the server database are duplicated because we collect from many sources and resolve the differences.

FastTrack July 23rd 2929 8:20am Central

Our update currently has a missing dividends problem in most funds. We are working on the problem. We will post again when fixed. At that time, the update will put the missing divs back.

We regret this problem. It is our fault and not external sources.


FastTrack May 20th, 2020 11:00AM

I have never claimed any particular timing expertise.- Under construction-

FastTrack May 8th, 2020 11:00AM

A large number of Open End funds did not receive prices last night (about 2,000). We have worked many of the missing prices from fund company web sites and believe we now have all prices, at least those posted properly on each fund company's web pages.

Do another FTComm update to get all the changes.

FastTrack April 23, 2020

Today, I continue with my recent discussions investing in 50/50 stocks and bonds. Morningstar paid a Phd to pick winning defensive funds

https://www.morningstar.com/articles/978979/article

Here's the result

The red MS$ line is the 10 funds picked with assets rebalanced evenly each month. It has the lowest return of any line on the chart with an ANN= return of 7.09%. and a volatility of 3.95% over the last 10-years.

The purple 5050 average of the green and yellow lines has a 9.59% annual return. It also has the lowest volatility on the chart of 2.32%

Read our comments below back to January. Without any changes in strategy, our advice easily beat the MS Phd.

If you go back a month to January, you will find that everything has worked out fine for even the UPRO and TMF 3x funds used.

Below, for 2020 year to date (starting 12/31/2019), the red List AVG for TMP and UPRO had a gain, ANN=7.87%. This is back in positive territory despite UPRO's -51.6% loss. Morningstar's Phd's 10 funds averaged -13.3%.

I can hardly believe it myself. Even the extreme manipulation of the Fed flooding the bond market with $billions
in new bonds resulted in disturbing the 50/50 strategy for less than a month.

.

FastTrack March 23,2020

The strategy documented below of March 2nd worked just fine till the last couple of days. What happened was The Federal Reserve and the Treasury teamed up on March 16th to perform massive Quantitative Easing totaling $500 Billion in Treasury bonds and another $200 Billion in Municipal and mortgage bonds.

The next effect was to introduce uncertainty in world markets reflected in recent volatility in the red line. I personally had begun lightening up on UPRO as few days earlier largely as panic about the virus spooked me. I lightened up substantially on the TMF after the QE impact became apparent. Check the chart of IOFIX (not shown) which shows the impact of QE on mortgages.

My strategy today is to start bottom feeding on Apple, Amazon, Google, and IHI. I expect that QE will usher in a round of inflation that will effectively reduce US government debt (and the value of our investments). Of course, it will greatly impact all the foreign Treasury bond holders.

A "safe" good investment? Well not in funds. Stocks are a better bet. Many quality companies are deeply over sold. Putting a small part of assets in a quality stock will likely perform well.

Be safe. Wash your hands after perusing Facebook. Our Offices are fully staffed and working from home. We anticipate working normal hours. We do expect missing prices from funds running barebones operations. Please alert us to prices which you think are wrong. Send email to data@fasttrack.net We will reply to you. Research the problem. Transmit corrections to all FastTrackers. You wonderful, patient customers are our biggest asset.

Thank you.

FastTrack March 4, 2020

Ok, I've gotten feedback on the March 2nd comments. Read March 2 below first.

"I'm afraid of the bond fund because interest rates are too low."

But Interest Rates can't go lower.

But the US is financially solid, not a foreign country whose government notes is weakly insured, if at all.

Worldwide investors are buying US Treasuries because they believe that the money is safe. In their own country, the government could confiscate, delay, or tax the assets.

The US Treasury does NOT control the resale market for Treasury bonds. Newly offered Treasuries may have a positive interest rate, but their sale price will be immediately increased by buying pressure.

President Trump favors negative interest rates. Wealthy people should pay to insure their money by the full faith and credit of the US, not to mention our military might.

Democrat presidential candidates favor taxes on financial transactions. There are far more assets in Treasuries than stocks. Taxes on transactions are unpopular. Negative interest rates mean nothing to most people but achieve the same goal, taxing the rich.

This doesn't end well; does it?

With strong US leadership, we could profit handsomely.

It is not likely that most countries, even our closest allies, will fare as well.

FastTrack March 2, 2020


It is not by accident that since 2008, that the first chart that a new FastTracker sees displays

VFINX (Vanguard S&P Fund) and VUSTX (Vanguard Long Treasury fund).

There has been no personal lesson or user group meeting given by Paul without showing an AVG (average) for these two funds (yellow line)

The holdings are equalized with a small trade every month end.

You should own some equities and some bonds. You hear that advice everywhere, not just FastTrack

The FastTrack Help Tab has many examples of Screen averages.


Let's take it a step further

The yellow line rebalances a hypothetical portfolio every month equalizing amounts in two 3x EFTs.

UPRO is 3x S&P 500, TMF is 3x US Long Treasuries

The yellow annualized gain for 10 years is 31.59%

The volatility is measured by yellow SD = 6.2 which is half the volatility of the two individual funds.


Put up this same chart for the past year. (not shown). You could have ridden through the Corona Virus terror and the plunging markets without making a trade.

Need help with this concept


Call 866 295 0166 x 2

FastTrack January 13 2020 10:00 AM Central

We have revised the FT4Web Export for Fund Master format. The format now export 4-digit year dates. While Fund Master itself has gone to the bit bucket in the sky, many FastTrackers use that format to export data to Trade Station. Unfortunately Trade Station has decided to treat an exported 01/01/20 as 01/01/1920. It is possible that this change may cause problems for other FastTrackers. If so, we will make another change to allow each user to choose the date format.

You will automatically get the revised program ( FTExport.OCX ) during your next data update. Call 866-295-0166 for support if needed.

FastTrack December 16, 2019 7:00 AM Central

Invesco mutual funds were missing Friday prices over the weekend. When FastTrack is missing a price, the closing price from the day before is repeated. So, any symbol that had a dividend Friday and had the prior day's closing price repeated (pre ex date NAV) showed an innacurate daily return. That's fixed in this morning's update.

FastTrack December 12, 2019 7:00 AM Central

Year end dividends are coming in. We're adding a seasonal 11am Central update to pick up and publish any late morning reported dividends.

Additionally, FastTrack dividends are getting better! In 2019 we added three new dividend sources. Our primary source, Intercontinental Exchange (ICE), is reporting some fund dividends 1 or 2+ days post ex date... totally unacceptable. Our new sources are filling the gap until ICE eventually publishes.

If we're missing a dividend or you have a question, email us at data@fasttrack.net.

FastTrack November 26, 2019 7:00 AM Central

We are back up with dividends intact. A counter overflowed in the database builder at our end.
We have revised the code to reset the counter every evening. Do another FTComm Connect to fix the problem.

FastTrack November 26, 2019 6:30 AM Central

The FastTrack databases were sent out with no dividends. We are reviewing and will post corrections about 7:00AM.

FastTrack November 24, 2019

The FT4Web Help Tab has a 3rd party product link that p oints to the FastBreak site .
The link was broken recently and has now been repaired. FastBreak is an excellent trading and timing tool using the FastTrack database.

FastTrack November 18, 2019 5:30PM Central

New families are out for all databases. We've been including a handful of new stock families, notably these major stock index constituents: C-DOWJONESIND, C-NASDAQ100, C-RUSSELL1000, C-S&P500.

On the fund and ETF side, we're building two new families ALL-SOCRESP and ALL-SMARTBETA covering socially responsible and smart beta tickers.

Let us know what you think: data@fasttrack.net

FastTrack November 4, 2019 5:30PM Central

Missing data from last Friday is available. Tonight's first update is out and running smoothly.

FastTrack November 4, 2019 8:30AM Central

We're still waiting on the 1000 or so fund prices for 11/1/2019 close. Morningstar, Reuters, WSJ, and NASDAQ are still missing the same group as well. All other 22k+ issues look great!

FastTrack November 2, 2019 8:00AM Central

We're missing about 1000 funds from the 11-1-2019 update. Our main data source, NASDAQ, is not showing updated NAVs. We have three other non NASDAQ sources that also are not showing updated NAVs. Likely there was a failure or delay somewhere early in the closing process that has jammed everyone up. We'll keep checking throughout the weekend and update ASAP. Typically something like this will be resolved by Monday morning. See the complete list here: List of Missing Symbols

FastTrack September 17, 2019 5:59PM Central

We're back.

Amazon AWS has truly changed our business. Tonight, in a matter of minutes we not only identified our issues (thanks to AWS extensive logging features) but were able to mitigate the problem by boosting our capacity with a few button clicks. 10 years ago this would have been a 5+ employee, all hands on deck situation... compile code, rebuild servers, mount databases, test, deploy, and everything else. Thank you Bezos! Thank you for the 30+ years FastTrackers!

We'll keep an eye on the 7:20pm update, but we should be smooth sailing from here.

FastTrack September 17, 2019 5:40PM Central

We're off line for th next few minutes.

We've been growing our database, user base, and product list. That's bubbled up a few issues with the sizing of our Amazon servers. We're provisioning more horsepower now. We should be back up around 6 pm Central.

FastTrack September 12, 2019 7:40PM Central

We had an issue with the early update and went live around 6:40pm (instead of 6:30pm). That had some cascading problems with the 7:20pm update and we didnt get indexes and the handful of missing funds out until 7:40pm. Everything looks good now.

FastTrack August 13, 2019 12:50PM Central

Most of the missing data is out. We're still missing about 80 ticker's 8/12/19 prices, but that will likely be in tonight.

FastTrack August 13, 2019 12:00PM Central

Data is still not in from our primary source, but filling in data as it comes in from our secondary pricing sources. We should have most of the missing data published in at approx 12:45pm Central.

FastTrack August 13, 2019 7:00AM Central

A problem at the NYSE caused approx 1400 funds to no price last night. We're still waiting on the updates and will publish ASAP. See the full list of missing funds here: Missing Funds 8/13/2019

FastTrack August 8, 2019 8:00AM Central

Our nightly update is now out at 5:50pm Central. We announced the general availability last week via email and social media. See the full details here: https://investorsfasttrack.com/earlier-nightly-data-update/


Breifly though, we're doing a first release of new data at 5:50pm Central. This includes all ETFs, Stocks, and approximately 90% of open end funds. Our second release is at 7:20pm Central. This includes all indexes, remaining open ended funds, and any fixes/update to data in the first publish. Publish 3 is the following morning at 6:20am Central. This includes any updates and dividends processed overnight and early morning.




FastTrack April 18, 2019 1:32PM Central


Most of the missing fund prices have been collected and posted. Do a Connect with FTComm. We are still working over about 100 prices to determine if they were, in fact, flat or still missing.



FastTrack April 18, 2019 8:00AM Central

Last night we didn't get prices on 1,700 open end funds. We are working with our sources and hand entering these today although some will not be available until tonight. Cause is uncertain although we know this was not our fault. Will post more info as available.




FastTrack April 2, 2019 8:00AM Central

We have updated the fund and stock families.

The new fund names no longer use the ADM:, INV:, INST: . . . prefixes to determine the type of fund.

Instead there are Fundamental families for each type of fund.

Example-Selecting only Fidelity funds that can be purchased by individuals is illustrated above.

Expand the Buying category (click the little + sign on the left)
Select the Fidelity family with a single click (not shown)
Click the + button in the Sieve (Upper right). This loads all Fidelity funds into the Issue List
Expand the Fundamental Category, as shown above.
Select INV with a single click, then click the AND button in the Sieve.

The remaining members of this Issue List are 791 Fidelity funds available to individual investors. They are members of both Fidelity AND INV families. A second step would be to expand the Loads Category then AND it with the 791 funds.

Right-clicking the Issue List provide ans option to save the Issue List as a Personal Family.

There are other changes.
The best way to see the families that are important to you is to use the fund spyglass button.

Enter the ticker of your favorite fund, like ABALX.
Click the spyglass button in the upper left. What you see is an expanded list of families that contain that fund.
Click the Rebuild Family Tree button (next to the spyglass button) to restore the full tree structure.




FastTrack March 21, 2019 10:00AM Central

FastTrack data has never been better!

In November 2018 we completed an upgraded our internal data collection processes. The new process enabled us to:

Add 2500 (and counting) additional Mutual Funds
Add 500+ (and counting) additional ETFs
Add 500+ (and counting) additional Indexes
Turn around fund request same day vs. 2-3 day in years past
Significantly improve our dividend collection, scrubbing, and correction processes
Consistently publish the nightly database at 7:22 PM Central


Additionally, we're now collecting 95% of closing prices and dividends by 6:00 PM Central. As a result, we're going to start beta testing a 6 PM (ish) Central database release, followed up by our standard 7:22 PM Central release.


Send symbol requests to data@fasttrack.net





FastTrack January 14, 2019 10:00PM Central


Tonight's 7:20 PM update was missing lots of dividends. Databases are rebuilt with corrections. We'll be looking into the issue more tomorrow. For now, rerun FTComm or restart FT Cloud to get the new, correct databases.



FastTrack December 12, 2018 9:00PM Central

We are into heavy dividend season. Our new FTComm now permits you to update several times per day. You will get changes including new dividends. We work very hard on dividend collection, but we miss some. Please send an email to data@fasttrack.net when dividends are more than 2 market days late. These go to the top of the stack for hand research. Since many distributions arrive after the close Friday, two days would be after your Tuesday night update.

We appreciate your feedback. This is a major part of making FastTrack a quality product. We listen to you.



FastTrack December 11, 2018 1:00PM Central

In November Fidelity has discontinued many ticker symbols and merged funds. They are overhauling their naming to be more user friendly. Unfortunately, they are not adhering to their published schedule for the change. This is giving us fits.

We have all their press releases and are working our way through them. We regret the confusion that this Fidelity conversion is causing. They are publishing fund price history and dividends for the new funds going back about 7-years. In some cases the prices closely match the discontinued funds, in other cases, they do not match.

Please follow this Data Blog for details. We will publish a list of changes as we compile it.




FastTrack December 10, 2018 1:00PM Central

We messed up the startup of FT4Web . . . It just locked up. It was caused by a bad web address on our site. It was not your fault. We fixed the problem Which started about noon Central time.

Please accept my apology, Paul Charbonnet



FastTrack December 6, 2018 7:00AM

The corrections were made.




FastTrack December 5, 2018 5:00AM

Last night's (Dec 4th) price was messed up for the following issues due to the extreme value changes. We are correcting and reposting later today.

RUT-D Russell 2000 Dividend Adj Ix
RUT-C Russell 2000 Value DivAdj Ix
RUM-D Russell MidCap Dividend Adj Ix
RU2-I Russell 2500 Value DivAdj Ix
RU2-H Russell 2500 Growth DivAdj Inde Ix
NYC-N NYSE New Composite 01/09/03 Ix
DJ-20 DJ Transportation Ix
BC-5E Barclays Fortune 500 EqlWght TR Ix
$MSTA Mornstar US AllC DA Sty Ix
$MSCP Mornstar SmC All Sty DA Ix
$MMCP Mornstar MdC All Sty DA Ix
$MLCP Mornstar LgC All Sty DA Ix



FastTrack December 5, 2018


The markets and FastTrack will be closed in respect for George H.W. Bush. In memoriam, here's our view of investing from January 20, 1989 to January 20,1993. Pres. Bush was a one term president. Highlights,

Immediately in office from 1989-1991 Bush struggled with a Democrat Congress over the $220 Billion debt left after Reagan's presidency. Bush favored cutting expenditures. Democrats favored new taxes. Sounds familiar today as a Republican Congress and Trump cut taxes yet continued to overspend.

Ultimately Bush broke his promise of "Read my lips. No New Taxes.". This statement my likely cost him his second-term.

The S&P 500 rose 34% in Bush's first year and a half but slid into a 19% loss in October 1990. The decline was likely prompted by a Fed Reserve Alan Greenspan's failed "Soft Landing". Donald Trump's first 1.6-year gained 31% before sliding to a possible bottom at -9.5% down in November 2018. Fed rate hikes likely contributed to that decline.

In 1991, the Cold War ended, and Desert Storm (Saddam Hussein) commenced. Reagan had pushed the USSR to the edge of failure with strategic missile defense and radar-invisible warplanes. Bush clearly organized powerful allies to free Kuwait from Iraq's Hussein.

From the end of 1991 to the end of 1992, the S&P 500 gained nearly 40% (18% annual) and GDP grew by 3% annually. However, unemployment remained high. Bush lost the election to Clinton who was aided by Ross Perot taking votes that likely would have gone to Bush.

Bush was a good, fully prepared leader as Congressman, Ambassador to the UN, head of the Republican Party, head of the CIA, and two-terms as Vice President. The market gained at the rate of 14.3 percent during his 4-year term. President Clinton's 8-year term gained at the rate of 17.4%. President Obama achieved 16.5%. However, we must mention the younger Bush left 8-years in office with an annual loss over 4% with considerable help from Democrats who pushed rule-change to extend Federally-backed loans to noncredit worthy consumers.



FastTrack November 16, 2018

Families and fund names have been extensively revised. Here are the relevant changes with tips about how to best use the improvements.

There are many, many new indexes. Click for details.
The Indexfam family still exists, but "Indexfam" is no longer a part of the name. So you have to see all indexes by loading the Indexfam. Indexes are alphabetically listed in the Index Subtab.
We have removed the ADV:, ADM:, INST: and INV: headings on fund names. So . . . To see the Institutional funds then use the Family Tab Sieve. + in the Fidelity Family and then AND then INST family.
To list the no-load funds Fidelity funds that regular people buy, then use the Family Tab Sieve to + in the Fidelity family, then AND the Load-NO family.
The "Extraded" family hasx been retired. Use the All-ETF.
There is an ALL-ETN family to distinguish between ETFs and ETNs . . . get professional help if you are thinking of buying an ETN.


We are adding new funds and ETFs rapidly, sometimes a 100 or more a day. There will, of course, be many more frequent family upgrades. If you want to use the same fixed list of funds every day, then create your personal family thatrarely changes (as fund are liquidated/merged/removed from the FT database.

The programming for the new speedy upgrade the database rapidly was created by FastTrack Partner Daniel Charbonnet who took advantage of improvements in the distribution mutual funds information after NASDAQ and InterContinental Exchange instituted new stiff fees in 2017.



FastTrack November 8, 2018

There are many new indexes. Load the IndexFam to see them all. Click for details.



FastTrack October 23, 2018 9:00 AM Central

There is a new FTComm 5.0.2.5. Modest Improvements to the upgrade process.



FastTrack October 19, 2018 9:00 AM Central

We have just put out the new families mentioned yesterday. There is a new FTComm 5.0.2.2.
If you do not do the FTComm Update as prompted, then your families will be messed up

As a reminder, all families in the \FTDEF folder are subject to updating, renaming, removal, and replacement without notice. If you depend on families always remaining constant, then save those families under your own name as personal families in your \USERDEF folder.

FastTrack October 18, 2018 4:00 PM Central
FT4Web and FTCloud databases and families are growing. This has been a long time coming.

Highlights:

We are expanding our fund databases.
We are running a late-night update at 10 PM to pick up stragglers. Do another FTComm Connect.
We are replacing our Families visible on the FT4Web Family Tab.
We goten rid of a backlog of customer-requested additions. Your requests are now be handled much more quickly.Email data@fasttrack.net for addituions and corrections. Provide the ticker symbol and the name of each fund.
We have added all the largest money market funds. See the MoneyMrkt family.
While we have no plans to cover all existing funds, here is what we do add.
The oldest fund in each class of funds with the most back data. These are also members of the OLDEST family.
The No Load funds in every class. See the Load-NO family
Hundreds of new Indexes. Load the IndexFam. Some of these indexes require more information to be useful. We are revising the online help with more complete definitions.



FastTrack October 16, 2018 8:00 AM Central


Here at FastTrack we've never claimed any particular expertise in market timing. However, we find the services of Tom McClellan valuable at times like today when the market is teetering. From his daily newsletter last night (10/15/18).

"STOCKS: Bullish for short, intermediate and long term trading styles.I look for a rally lasting into 2019, but
I really want to see some strong A-D numbers starting now to confirm that scenario". Call (800) 872-3737 for information

Tom backs that opinion with several disciplines including the MCClellan Oscillator, moving averages, and original views of world, stock, bond, gold, currency, and commodity markets.

FastTrack September 28, 2018 12:55 AM Central
This morning we put out a bad database online for 5 minutes. It causes a failure and error message when running FTComm that cannot be fixed by FTComm. Solution: delete the C:\FT\FT*.DAT files (the FastTrack data files, then Connect with FTComm. The databases totally reload without the error. We estimate that this problem affected less than 10 users.


FastTrack September 28, 2018 9:34 AM Central
We have upgraded our in house software. We can now detect, correct, (and cause) data problems much more easily. We removed the $INDU version of the Dow Jones Index (DJ-30). The two indexes had been identical and correct for more than 15-years. However, many have used the $INDU ticker. Please switch to DJ-30.

FastTrack September 26, 2018 12:34 PM Central
We put bad databases out at about 11:00 AM Central today. It took us about 90 minutes to fix the problem. Do an FTComm update and all will be well. The problem caused an "Invalid Timestamp" error.

This mistake happened as we ran a new upgraded in-house data builder program, and the error only occurred only on FastTrack users who did NOT have stock databases . . . well . . . all our test machine have all the databases. We regret the inconvenience.

FastTrack September 17, 2018 8:30AM Central
Fidelity 9/14/18 dividends are in. We're processing and should be available in the FastTrack database around noon central time.

FastTrack September 15, 2018 8:30AM Central
We're missing about 100 dividends for 9/14/18 Fidelity. These usually come in from our data source the following market day. We'll watch for them Monday and fix by hand if they don't arrive in the morning.

FastTrack September 12, 2018 7:30AM Central
Whoa! Many funds were missing prices last night and it is our fault for speeding up our computer processing. Programs ran faster than ever before. We attempted to gather data from our primary source 2 minutes too early. We have collected the missing information this morning. We apologize for the oversight and the manual checking that was not done last night. Updates will be available about 7:50 AM Central this morning.

We are adding a timer, a count checker, and a retry to the code

FastTrack September 4, 2018 3:00PM AM Central
NASDAQ has responded to our queries and has provided about 1800 of the missing prices. There 1186 are still 186 . which we will be working this week with the fund companies to hand enter. No reason, or excuse has been made by any of our sources. We regret the difficulties.

This evening's updated (Tuesday night) will contain all corrections.

FastTrack September 3, 2018 3:56PM Central
About 2,000 missing fund prices from August 31, 2018 are still not yet available from our sources. NASDAQ, the distributor of open end fund prices, does not have these prices. There are quotes on the web for some of the missing funds, but no where near all. There are no notices from our providers and they have not responded to our queries over the weekend.

FastTrack September 1, 2018
No new open-end fund prices were available. NASDAQ.com also did not have new prices. Morningstar did have several Rydex prices but was missing many more. Google daily quotes did not have the 31st data.

With the Labor Day holiday, there is little hope of the prices coming in until we run the morning update again. We will run it Monday morning just in case. Usually missing prices before a holiday are available the next market day. Markets were, generally, flat. Likely your fund changed very little. We regret the inconvenience.

FastTrack August 31, 2018 7:24PM Central
A large number of open-end funds missed the deadline to turn prices into NASDAQ. We will retry at 7:35 PM Eastern and post whatever we get. We will run the morning process on Saturday in an effort to pick up additional data. More later . .

7:50 PM Multiple reloads gathered a few more open-end funds. Good News! ETFs, Stocks, and indexes are updated. We will rerun Saturday (tomorrow) and post revised results for the open-end funds no later than 10:00 AM. The markets were near flat and many funds show up with no change in addition to those which did not post a price.

FastTrack August 17, 2018 8:00PM Central
We posted a partial update. Many mutual fund prices have not been fed to us through NASDAQ. Stocks and ETFs look fine. Tonight's problems were not in any way rebated to historial dividend problems we have solved at our end.

8:17 PM - The delayed NASDAQ feed has begun. We are collecting open-end funds again.
9:00 PM UPDATE IS COMPLETE- FTComm will refresh your data.
FastTrack August 14, 2018 9:50pM Central
We are up with all databases. Dividends for all issues look good. Do another update if you see data it appears to be incorrect.

FastTrack August 14, 2018 7:40pM Central
The ETF data is giving us trouble again. The other databases look good. We are leaving the servers up. We will post here when it is all up.

FastTrack August 14, 2018 5:30pM Central
We replaced the Funds1 database again with additional dividends. We appreciate the feedback we are getting from FastTrackers.

FastTrack August 14, 2018 1:45pM Central
Our morning process only picked up the last three years of dividends. I did that by copying the wrong file. Please accept my apology. Took 2 hours to fix from discovery. All databases have all divs and splits. -Paul

FastTrack August 14, 2018 11:45AM Central
Our morning process only picked up the last three years of dividends. I did that by copying the wrong file. Please accept my apology. Should be fixed in an hour. -Paul

FastTrack August 13, 2018 8:00PM Central
There have been issues with the update in the past 5 days. While we may seem only be introducing a new FTComm, there were a number of behind the scenes revisions. These were aimed at having the update available 30 minutes earlier. We chose to do the upgrades before our database deadline of August 31st. This gave us some padding in case we had to revert back to the old operation in house.

FastTrackers are most patient. Thank you.

FastTrack August 13, 2018 8:00PM Central
The update went up in pieces. First funds, then ETFs and then Stocks . . . An unintended consequence of "speeding it up for the users". We ran the whole process again and had it all up at once at 7:45 PM Central. It did speed up, but required early birds to do multiple updates.

FastTrack August 13, 2018 3:00PM (posted 6:00PM Central)
All dividends have been brought up to date. Fidelity splits are properly handled. An update with FTComm corrects all data.

FastTrack August 13, 2018 8:13AM
Dividends are not yet in perfect condition. We worked hard over the weekend, and continue to expect to have the data corrected today . . . not predicting the time. We will revise this posting for about 20 Fidelity funds for which Friday dividends are missing. Stocks are in good shape.


FastTrack August 11, 2018 8:13PM
A simple explanation: Fidelity has had a problem posting splits for most of this year. We revised our software to relieve the problem. They did it again 8/6/2018, but our software fixes didn't help. FT charts incorrectly showed a 10 x gain on 8/6/18. We manually removed the splits. Then Fidelity put the splits back in correctly on 8/10/18. Our software missed it. FT Charts incorrectly showed a 90% drop.

We have now repaired the 13 Fidelity funds affected by the split problems. However, we did that at the expense of not posting new distributions on 8/10/18 for other funds. This is a problem we will e deal with tomorrow, Sunday. An update Monday morning should have all corrections in place. Do another FTComm update Monday morning.

We appreciate your patience. We are committed to having the best data around, and your help in spotting problems is very valuable.


FastTrack August 7, 2018 19:13AM
Roy Ashworth has posted a revised version of FastRube. Ken and Nelson Huck have posed a revised FastBreak. See our 3rd Party Product Page.

We provide basic support for these products, that is, the installation and normal operation. We cannot provide much help on how to make money. They all have manuals for you to read. We do refer difficult problems to the program creators and they usually respond directly to you.

FastTrack August 2nd 2018 10:48AM
We have revised the Standard Deviation Function in FTShell3.dll. Do an FTXomm update toghet the latest program.

Trade 4.03 has a 30-character INI file name length limitation.


FastTrack August 1st 2018 1:48PM
I'm going to tempt the devil . . . I know of only 1 FastTracker who does not have FT4Web, FTCloud, Trade, FastBreak, and/or Cycle Signals working. The sole problem is a user running Windows 2003 that will not support Trade, FT4Web works fine.

FastRube is an unknown? I have not heard of any problems. Call 866-295-0166 x 2 if you are having problems.


FastTrack July 31th, 2018 1:48 PM
Trade version 4.03 is fixed and available immediately. Ed Gilbert is wonderful. Click here to download. We have not had a chance to test it in house. The contents needs to be unzipped into your existing Trade folder (wherever currently installed). It does support the Portfolio feature.

Yesterday's Trade 4.02 did not work for Portfolios.

Paul

FastTrack July 29th 2018 up at9:00 PM Central
Third time is the charm. FTShell, FTShell2, and FTShell3 have all been revised to adapt to a change in the new FTComm which had unintended consequences. This affected users of some 3rd party products whose products did not automatically check/rebuild the index of FT database symbols when starting. As a true confession, it also affected our own in house collection of Index data. A program we wrote using FTShell2 ignored the error and failed Wednesday, Thursday, and Friday nights. Indexes were collected and sent out the following mornings.

We also modified the Yield1Y for FTShell3 to agree with FT4Web. The differences were minor in most cases.

We are working with Ed Gilbert, the creator of Trade. At the moment, there is no committed time for repair. The size of the task and commitment to fix is still under discussion. We are working together to come up with more info for Trade Users. Ed has asked that we not give out his contact info. We will be supporting Trade through FastTrack Tech Support. Check this blog. We will post daily updates.

FastTrack July 27th 2018 up at 5:45 PM Central (delayed in posting until 5:31 PM)
A problem in FTShell2 which shows up with software reading FT data has been resolved. Update this evening after 8:PM Central.

FastTrack July 27th 2018 up at 9:19 AM Central (delayed in posting until 5:31 PM)
We are running our morning process. We noted that about half of our funds and about a quarter of our indexes did not download last night. If you Update again about 10:30 AM Central. You will receive the prices. We are uncertain of the exact cause, but believe it is likely due to revisions we made to "Speed up" in our collection process. No good deed goes unpunished. Thanks for your patience. We may delay the download tonight to ensure good downloads over the weekend. The problem is time-sensitive happening only in the evenings.

FastTrack July 26th 2018 up at 7:50 PM Central
Whew! Changes mean busy days. We discovered that our FTShell2 and FTShell3 had database size dependencies. We revised and sent these to you tonight. They were causing Trade 3.05 failures, and affecting some other 3rd party software. The revised FTShell programs are fully compatible with their original specifications. Your FTShell dependent programs work without revision.

We also discovered why some market Indices were not being collected at night. The fix made during the day failed. Do another update around 10:30 AM tomorrow to get missing data for about 20 Indexes.

We are in contact with Trade creator, Ed Gilbert. We are working to solve the problems, but it will be a week or more before any fix. Ed asks that you do not contact him personally. All information will be posted here. If you are having 3.05 problems. Call us at 866-295-0166 x 2. Trade 4.0 is under discussion.


FastTrack July 23rd 2018
We came up at 9:00 PM Central. There were problems retrieving indexes and Closed-End funds tonight. Our primary source, Interactive Data Corp had serious problems during the day today losing most of it's Friday closing prices for Open-end funds. They are still in the process of recovery. Why that affected us tonight, Monday, is unknown. Tonight market indexes were posted very late We retrieve those from two sources and both had problems.

We reran about 8 PM and briefly had an update posted, but the data was corrupted. If you got that update, run an Online Integrity Check. FTComm 5 users just do another update.

We will review logs tomorrow. Despite the data source problems, our data collection programs should have given us better notice of the problems.


FastTrack June 30th 2018
We have a new FTComm. It has been running fine for more than a month for many users who reinstalled FT for whatever reason. We will begin selectively prompting users to upgrade FTComm with a yellow warning over the next month, but you may upgrade when ever you wish.

FTComm 5 does a combination Integrity Check and Update every day.
The backup and restore functions are much more fully featured and are now FREE.

Install FTComm 5 today from our web page or FTComm Version 5.


Older FTComm versions will stop working in midAugust.
FT4Web is unchanged and will operate as before.
FTCloud and FTLightning are unaffected.
This will take about 100MB of additional disk space ,which on the scale of disk drives over the last 10-years, is very little.
Users of fasttrack.dll and FTShell.dll will encounter no changes. The database files on disk will get bigger.
The batch console downloader will continue to function without upgrade.
FastTrack June 27th 2018 8:00 AM Central
We did have an export problem in mid June which I blamed on Microsoft. Actually, it was caused by a server problem at FastTrack. The problem was resolved within a day and only affected as 2-3 users.

FastTrack June 11th 2018 1045 AM Central
Fidelity pre-announced split several funds last week. However, they have not yet performed the splits. We removed the splits from the FT Databases in the morning process which became available about 10:00 AM. Please do an Integrity Check to fix your database.

We believe Fidelity still intends to perform the splits, but we do not know when. We may have another downside discontinuity when they do the split. We do not know why Fidelity has developed this reporting problem (see our May 14th comment below), but we are working with them.

FastTrack June 7, 2018 1045 AM Central
We want to thank Kathy of Jim Stack's organization for reporting missing stock dividends yesterday. In midMay, programming had upgraded our server, and while no errors were reported, things weren't right. The production side of our house was not told about the change and subsequently did no checking. Tech support took Kathy's call and reported the problem to both sides. Last night we posted the missing stock dividends.

We have tried hard through the years to listen to what our customers report. FastTrack is the product of thousands of smart investors and sharp eyed proofreaders. We appreciate your help.

Paul Charbonnet, Founding Partner

FastTrack May 14th 2018 1045 AM Central
Fidelity split several funds over the weekend. They have yet to privately or publicly post the splits creating disastrous paper losses in Fidelity's accounts and losses in FastTrack fund data. We have not yet posted estimated corrections as Fidelity has been pretty good in the past and we do not want to ourselves with doubled dividends this evening.

FastTrack April 30, 2018 8:45 PM Central
This evening about 1,000 open-end mutual funds missed their NASDAQ deadline for price submission. About 7:30 PM Central, we noted the high number of missing prices, but sent out the suspect results after a recollection failed to obtain the data. We retried the collection several times and finally got many of the missing prices about 8:30 PM Central. We suspect that problems in Canadian markets Friday caused problems today as well, but none have been reported through regular channels.

If you updated FastTrack earlier this evening, an FTComm Integrity Check will fix the missing prices.

We regret the problems and will seek an answer tomorrow from NASDAQ.

FastTrack April 27, 2018 8:05 PM Central
This week the US Treasury rates reported in FT have been flat. The Treasury changed the format of their data feed, but we missed their posted notices of the change. Today, we hand entered the week's missing information for

US1M-,US01-,US02-,US3M-,US03-,US05-,US6M-,US07-,US10-,US20-,US30-

However, tonight is flat (too late to hand enter). We will continue posting a day late until we can revise our collection program, hopefully within the week. We appreciate your patience.

On the positive side, Intercontinental Exchange's IDC division has completed the update of their server facilities taking 20-30 minutes off of our evening collection time. We hope to be able to come up as early as 7:30 PM Central, and no later than 7:45 PM. The new speed has caused some minor synchronization problems at our end since some data collections are completing before the expected time.

FastTrack April 9, 2018 8:42PM Central
We made many changes to Stock1 and Stocks2. Use FTComm to do an Integrity Check if your prices look funny or are missing.

FastTrack April 6, 2018 8:30PM Central
The exchange downloads are stunningly slow tonight. We are at the office monitoring progress. We will not be up by 8 PM.

8:15 We are up. We appreciate your patience.

FastTrack March 22, 2018 8:15PM Central
We left a program running on the server which slowed the evening update. This was our mistake. Please accept our apology for this evening's delay.

FastTrack February 26, 2018 8:00PM Central
We are experiencing a problem completing the update. . . .more later . . . cause unknown at this time.

8:26 PM We are up. The problem was a hand disk cleanup of our server that deleted a vestigial folder . . . a folder that formerly had a use, but the evening data collection process had evolved to no longer need the folder . . . nonetheless, a late step in the evening process was still expecting the folder to exist even though the content was unneeded. We will revise the program.

FastTrack January 30, 2018 8:00PM
We are experiencing problems with the extreme changes in the DJ-30. The evening update can make max change from the prior day of $327.67. Today DJ-30 changed by more than $1,000. This is a bug. We will review.

An Integrity Check corrects the problem immediately. Tomorrow's morning update and any future update corrects the problem automatically. We are reviewing the evening update code. Doing an Integrity Check, instead of an update, takes longer to complete, but the data is updated correctly for all issues.

FastTrack January 30, 2018 8:00PM
At the office tonight monitoring. There were a few more than normal missing prices, nowhere near as bad as last night. Our NASDAQ open-end fund prices took about 15 minutes longer than normal. We should be up about 8:05 PM instead of the normal 7:50 PM.

FastTrack January 30, 2018 5:00PM
Last night BlackRock, Manning, Napier, PNC, and Gabelli funds failed to report prices. We have worked them by hand today but did not get done. Additional corrections to 1/29/2018 prices will post tomorrow.

--------------------------------------------------------------------------------

Link to Data blog for 2017 and prior years